For real innovation in the market of flexible travel products for your child.
The automatic folding and unfolding 'MagicFold' strollers from hamilton by yoop are designed to enjoy modern life, from the city to the countryside, for everyday life and on holiday. Convenience within 'one hand' range.
A new level of convenience and safety thanks to the unique combination of our patented and one-handed folding system on all our models and our exclusive magnetic 5-point 'magic' belt system on our premium models.
Our mission is to offer every mother and father the convenience they need through our products. Easy Everywhere!
From birth to 4 years, parenting is a piece of cake thanks to the 'universally easy', compact strollers and the travel system of hamilton by yoop.
hamilton by yoop operates in the comfort and ultracompact segment. Its main features are safety, convenience and light travel.
Hamilton by yoop contributes to the smart solutions for easy parenting !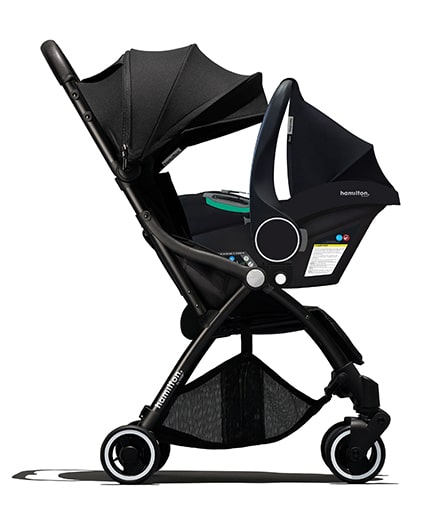 Delivering true innovation in the stroller market.
The Hamilton by Yoop self-folding "MagicFold" stroller has been designed to embrace modern day living from city to the country side to going on holiday, convenience and ease with just "one hand".
The combination of our patented one hand folding system with our exclusive magnetic 5-points "magic" system delivers new levels of convenience and safety.
Our mission is to deliver every mum and dad convenience and peace of mind their lives demand.
From birth to 4 years the Hamilton by Yoop "Easy Everywhere" compact stroller and travel system makes parenting easy.
Hamilton by Yoop is active in the city comfort and ultra-compact segment. Key features are safety, easy and travelling light.
Hamilton by Yoop is the smart stroller made for easy parenting!